Regular price
₹45,800
Sale price
₹29,500
Unit price
per
Sale
Currently unavailable
Result will be displayed here.
Get upto 5% Off & free shipping on your prepaid order
FREE Delivery
Get it between
-
Sold by: Fliptoy india-online Kids toy store More..
Cash on delivery

10 Days Replacement
Free door Delivery
Share
Warranty

Six-Month limited warranty on Battery

FLIPTOY warrants this product to the original retail purchaser as follows: The ride-on toys (except for the battery) are warranted against defective motors for one year from the date of the original purchase. The battery is warranted for six months from the date of the original purchase. An original receipt is required to validate your warranty. FLIPTOY will, at its discretion, provide replacement parts, and FLIPTOY reserves the right to substitute them if the part or model has been discontinued. To make a claim under this warranty, you must contact us. Proof of purchase is required, and shipping charges are the responsibility of the FLIPTOY.
View full details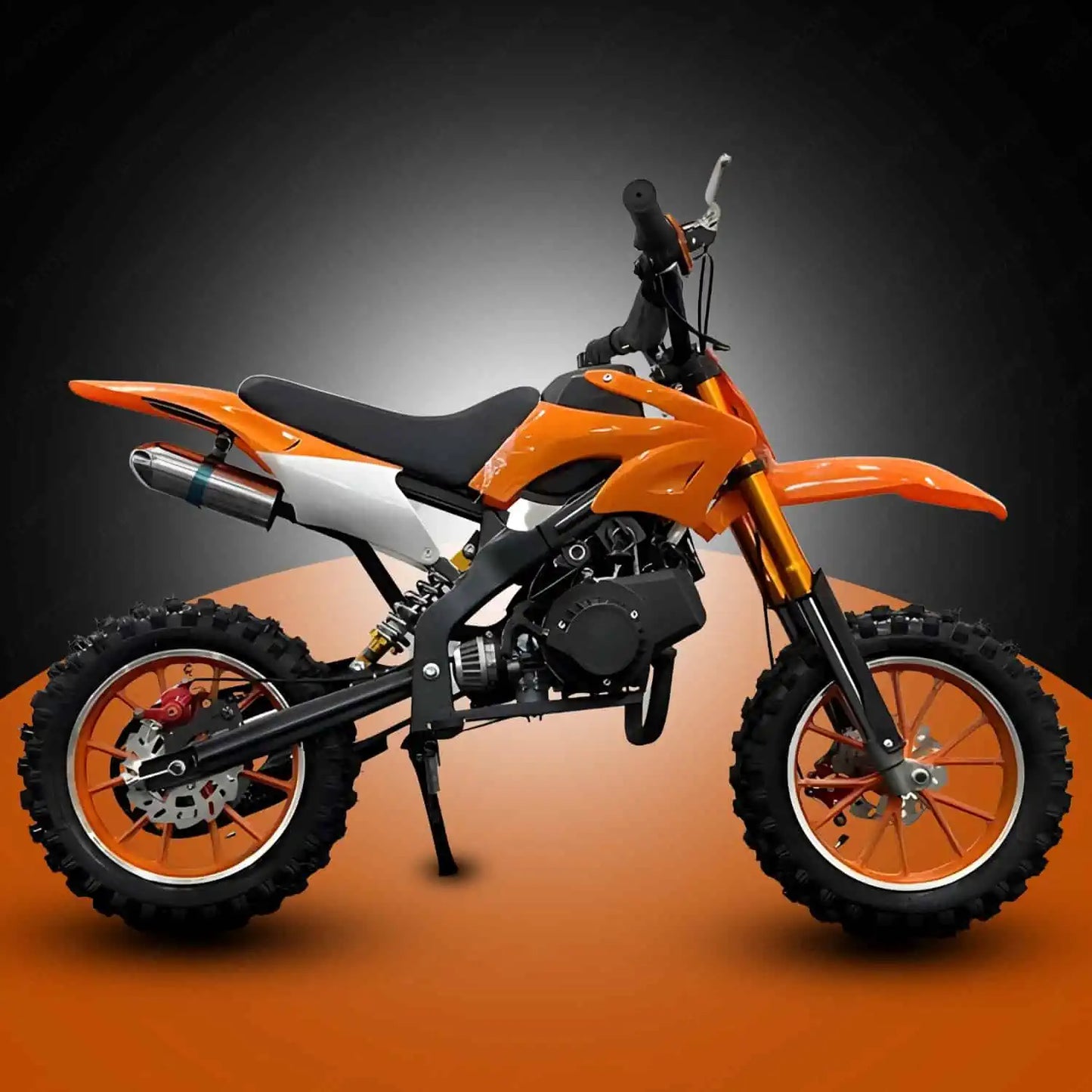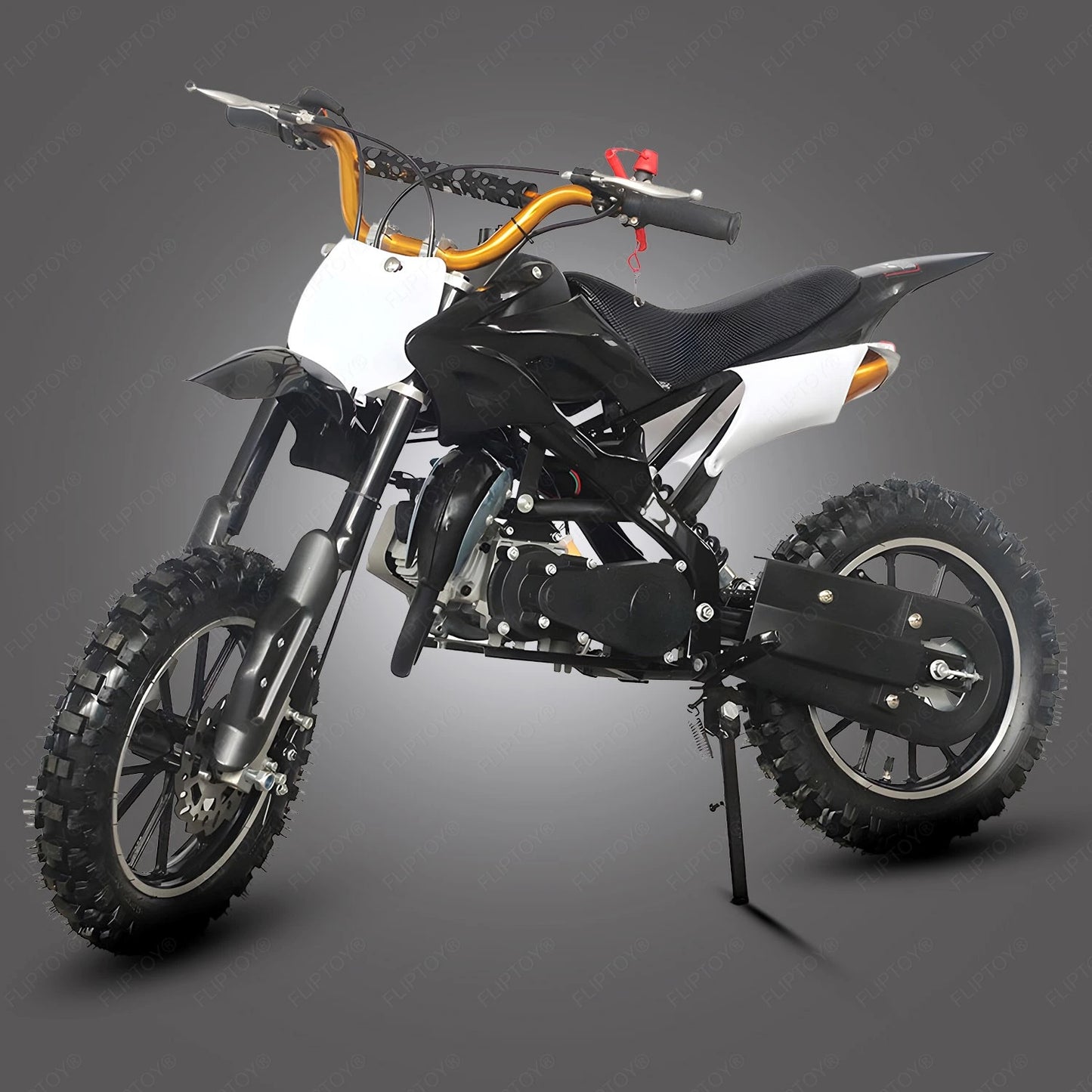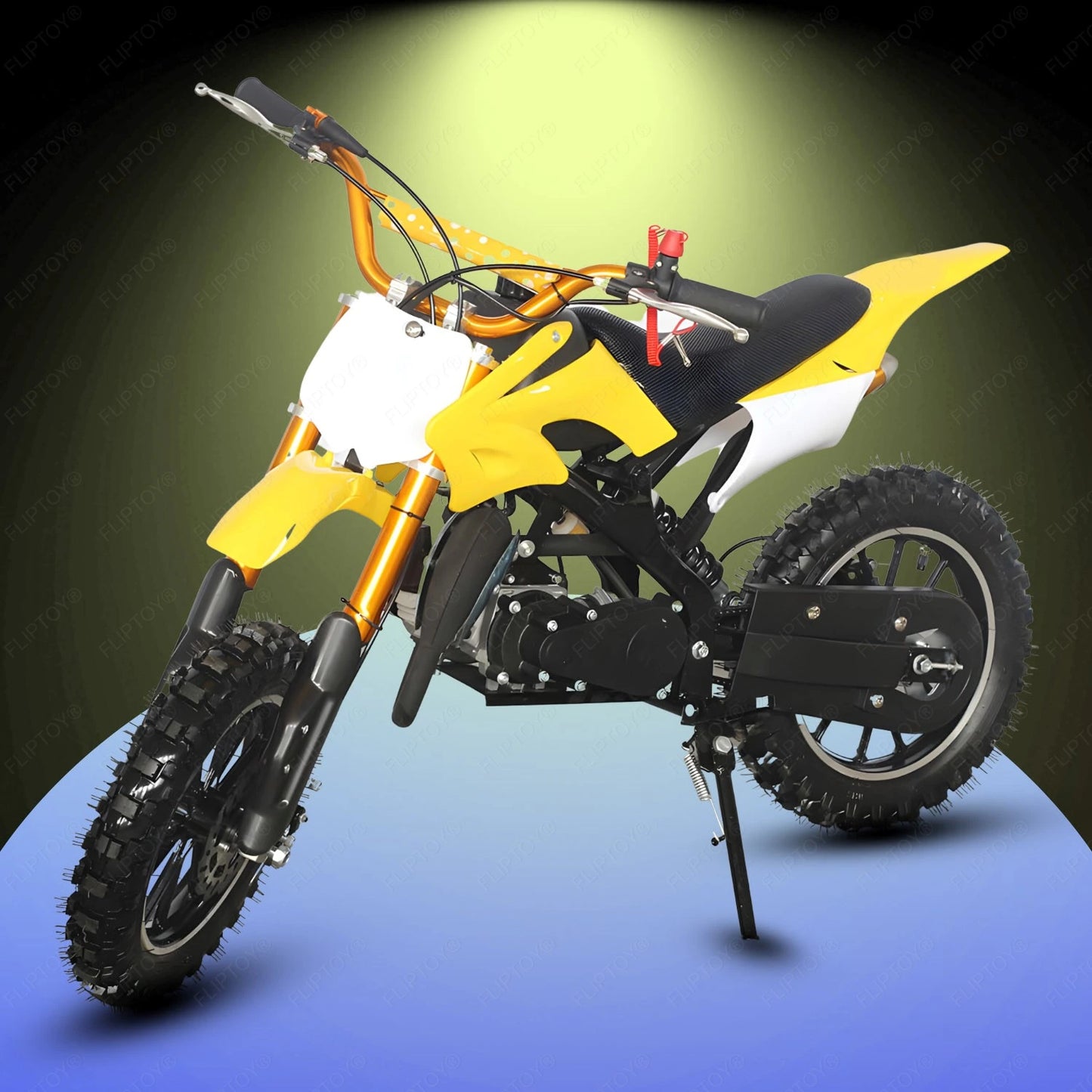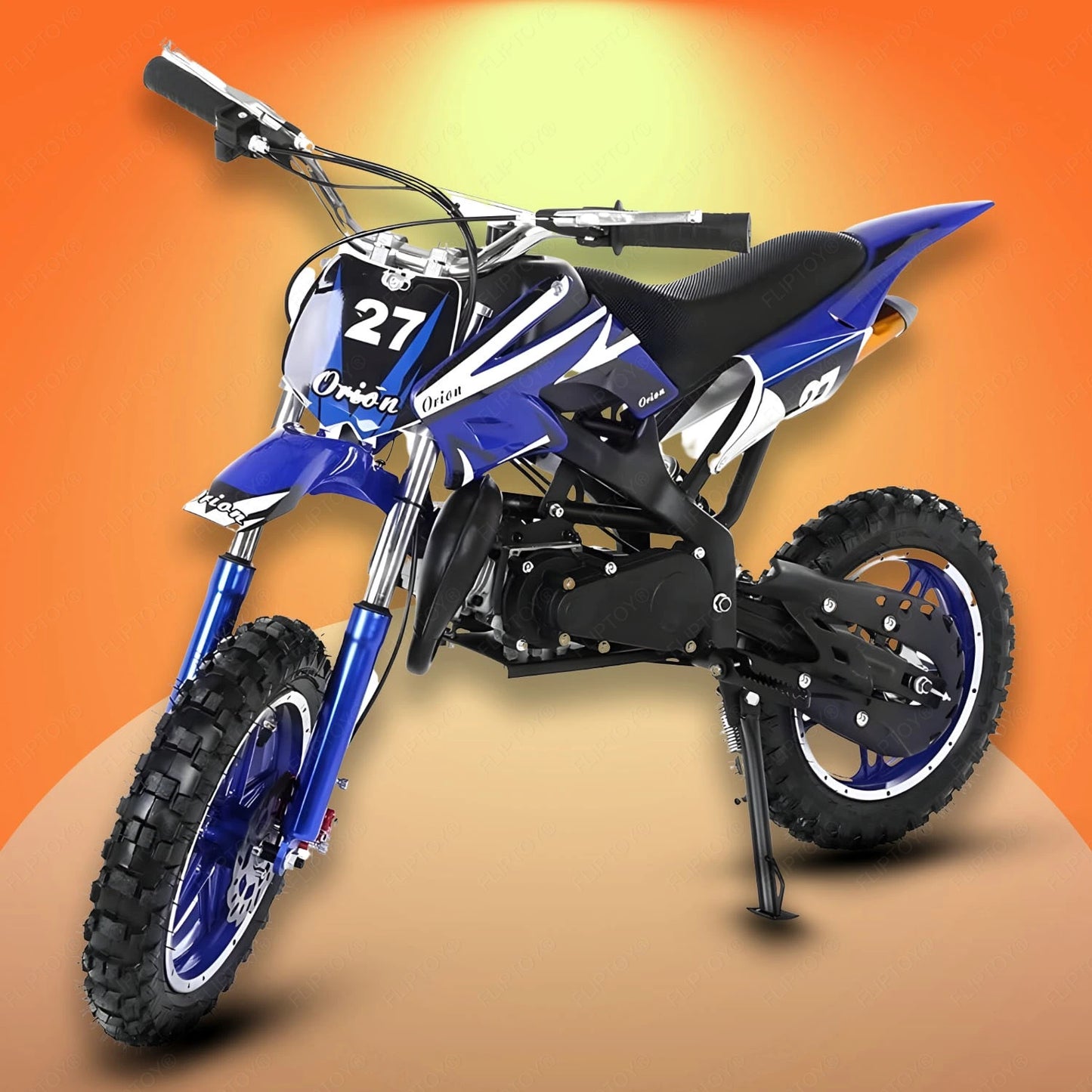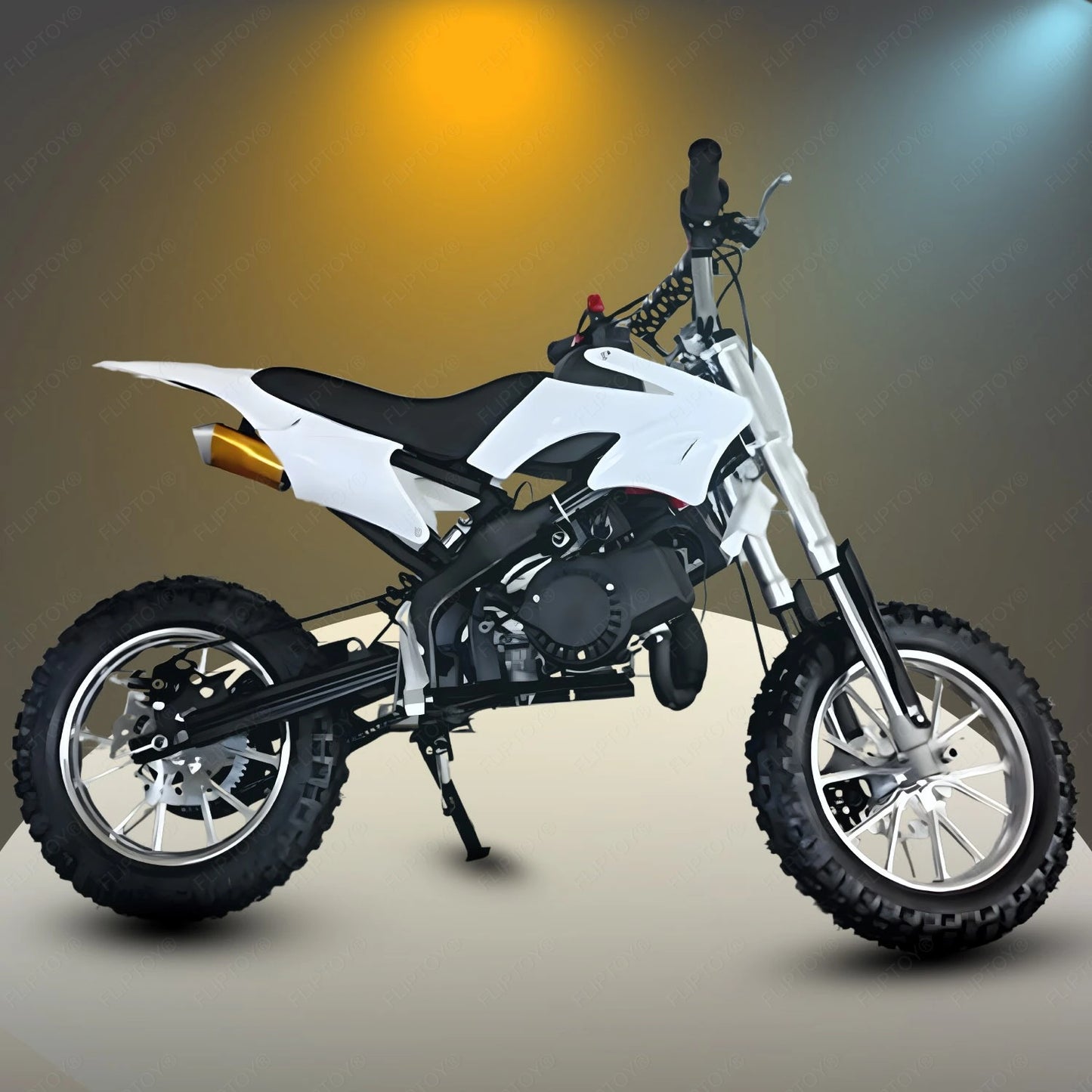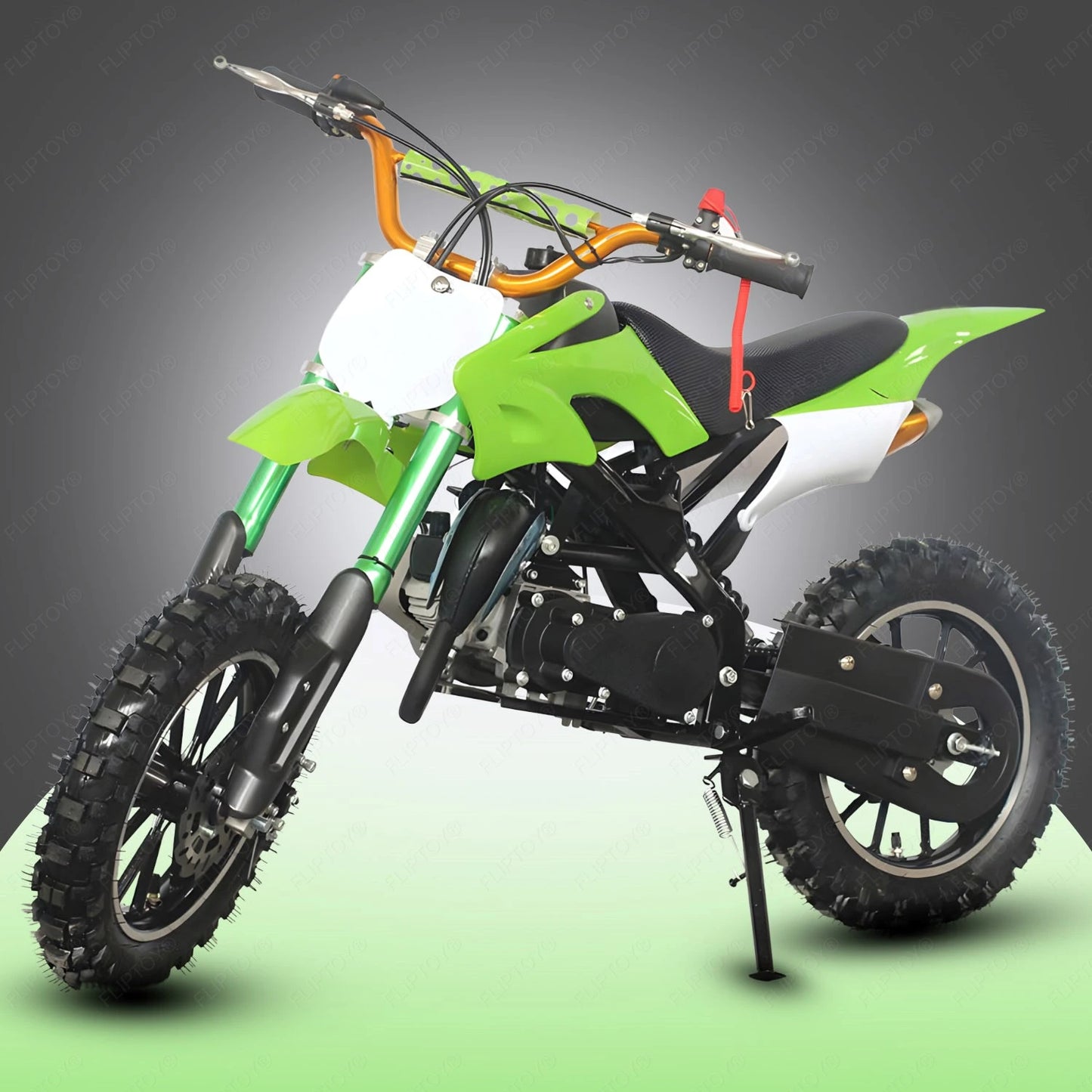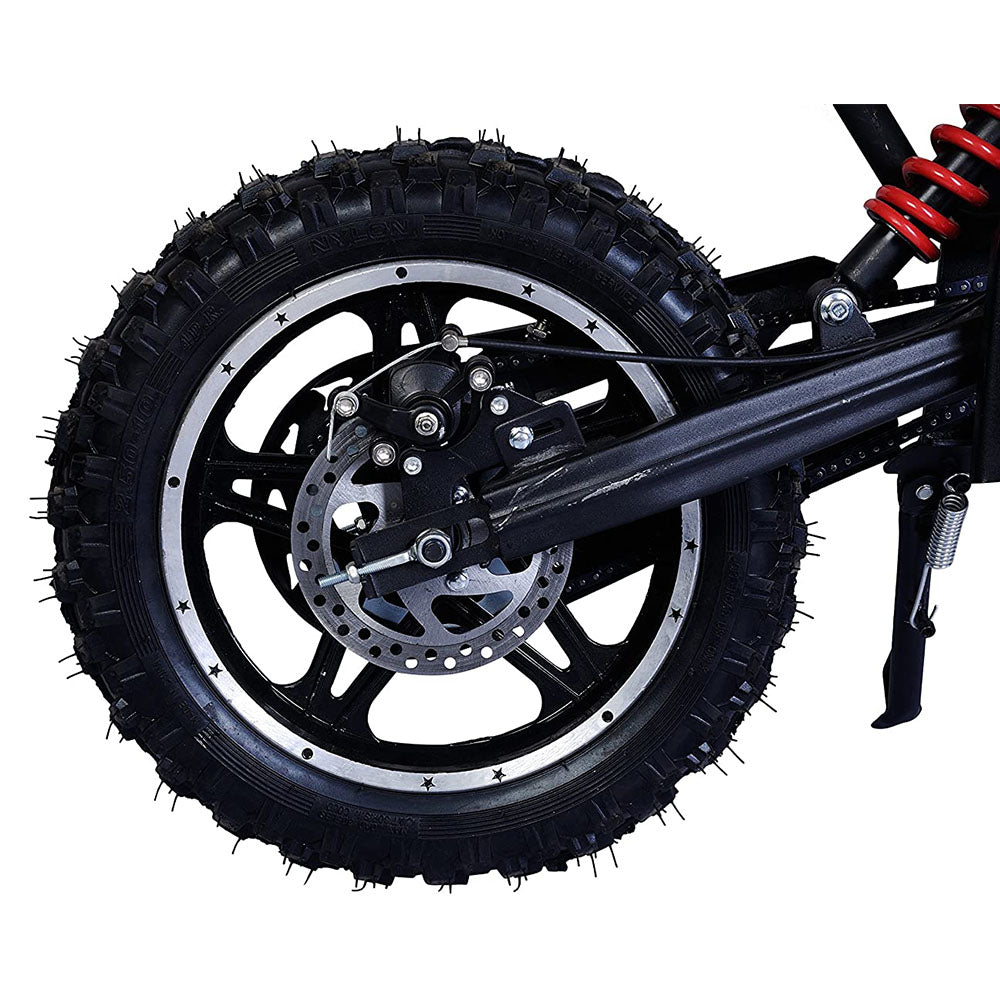 Product information
Technical Details
Engine:

1.50CC, 2 strokes, single-cylinder, air cooling




2.Max power, 2KW [700R/min] Battery 12V,4A x 1Pcs




3. Transmission, Chain Drive




4. Starting system. Pull start+Electric Start

Chassis:

1. Breaks (F/R) Disc brake / Disc brake
2. Absorber 

 (rear) Upside Down fork absorber / adjustable Shock
3. Exhaust Pipe Alloy material
4.Tires (Front/Rear) size 2.5*10/2.5*10
5. Drive train, Chain, fuel capacity: 1.5 L

Dimensions:
1.Seat height: 62cm, Wheelbase: 86cm
2.Ground clearance, 18cm,   N.W: 23 Kg. G.W: 25Kg.
3.Bike Dimension: 1200*580*80mm
4.carton sizes:1100*270*560mm
Other:

1.Max speed: 45Km/h

( Max load capacity: 90Kgs) Rubber tyre

Warranty.

30 days parts replacement,

 

Note: The parts replacement procedure can be by your local area mechanic.
After-sale service.
15 days technician Guide support (voice / video call only.) The maximum issue will be solved. easily over the call.
Inside of package.
1 Nos. Dirt bike, 1. Fuel gauge container, 1. battery charger.
1 Nos. Protective Gear Set, 
1 * Helmet
2 * Elbow pad
2 * Knee pad
2 * Wrist pad
Note: No registration of these vehicles in any government department strictly for off-road use only, these vehicles should be used in a farmhouse or private property with the owner's consent
Unleash Your Child's Thrill-Seeking Spirit with the Dirt Bike for Kids
Section 1: Exciting Adventures Await
Get ready to ignite your child's sense of adventure with the Dirt Bike for Kids! Designed specifically for young thrill-seekers, this 50cc petrol-powered pocket bike is the perfect introduction to off-road excitement. Watch as your child's face lights up with joy as they explore new horizons and experience the thrill of riding their very own dirt bike.
Section 2: Powerful Performance and Safety
The Dirt Bike for Kids features a robust 2-stroke engine, delivering impressive power and acceleration suitable for young riders. With its reliable performance, your child will have the confidence to conquer various terrains, from dirt tracks to trails. Safety is a top priority, which is why this bike comes with a free Kids Protective Gear Set. Designed for children aged 7 to 11, the gear set provides essential protection, including a helmet, knee pads, elbow pads, and gloves. You can have peace of mind knowing that your child is equipped with the necessary safety gear for a worry-free riding experience.
Section 3: Unforgettable Memories and Skill Development
The Dirt Bike for Kids is not just about fun and excitement; it also offers valuable learning opportunities. Here's why this bike is the perfect choice for your child:
Thrilling Adventures: Let your child's imagination run wild as they embark on thrilling off-road adventures with the Dirt Bike for Kids.
Powerful and Safe: The 50cc petrol-powered engine provides exciting performance while maintaining safety features suitable for young riders.
Protective Gear Included: Receive a free Kids Protective Gear Set with the bike, ensuring your child's safety during their exhilarating rides.
Skill Development: Riding a dirt bike enhances your child's coordination, balance, and decision-making skills, fostering their overall development.
Unforgettable Memories: Create lasting memories as you witness your child's joy and growth through their dirt biking experiences.
"Unleash Thrill-Seeking Fun with Dirt Bike for Kids"

"Experience Exciting Adventures with Dirt Bike for Kids"

"Power and Safety Combined: Dirt Bike for Kids"

"Unforgettable Memories and Skill Development with Dirt Bike for Kids"

"Get Your Child Riding with Dirt Bike for Kids"
---
Pocket bike 50 CC Petrol Dirt Bike for Kids
Dirt bike for kids. 50cc petrol dirt bike in India the bike have 50cc petrol engine 2 strokes single cylinder air cooling,50 CC dirt bike is more than just a toy. It is meant to develop your child's skill on two wheels and nurture their love for racing. This petrol-fueled machine is made to satisfy your child's track requirements and can carry children up to 15 years (55 kg capacity & max capacity 90 Kg.
Safety first
these 50cc dirt bikes include kids' protective gear set, safety gear gives maximum safety for kids, packed include, 1 PVC Helmet, 1 Pair Of Knee Cap, 1 Pair Of Elbow Cap, 1 Pair of Pam Protection
Petrol Powered
This bike runs on petrol. A gasoline tank is provided into which petrol needs to be filled. The fuel capacity is 1.5 litres
Comes Partially Assembled
This bike comes partially assembled. The handle, front tire, mudguard and rear shock absorber screw need to be fitted
Engine Specifications
Engine: 50cc, air cooled, single cylinder 2-stroke, pull start, Max power: 2kw/700rpm, Brakes(Front/Rear): all disc brakes, Absorber (rear): spring absorber tire(front/rear): 2. 5 x 10 rubber tire, Drive train: chain, Fuel capacity: 1.5 l seat, Max speed: 45km/h max, mileage: 35 kmpl
Choosing a selection results in a full page refresh.
Opens in a new window.