Baby, Ride on jeep, 12-volt battery operated, led Headlights, inbuilt music, USB, Aux & remote controller
Baby, Ride on jeep, 12-volt battery operated, led Headlights, inbuilt music, USB, Aux & remote controller
Regular price
₹38,000
Sale price
₹22,500
Unit price
per
Sale
Currently unavailable
Result will be displayed here.
Get upto 5% Off & free shipping on your prepaid order
FREE Delivery
Get it between
-
Sold by: Fliptoy india-online Kids toy store More..
Cash on delivery

10 Days Replacement
Free door Delivery
Share
Warranty

Six-Month limited warranty on Battery

FLIPTOY warrants this product to the original retail purchaser as follows: The ride-on toys (except for the battery) are warranted against defective motors for one year from the date of the original purchase. The battery is warranted for six months from the date of the original purchase. An original receipt is required to validate your warranty. FLIPTOY will, at its discretion, provide replacement parts, and FLIPTOY reserves the right to substitute them if the part or model has been discontinued. To make a claim under this warranty, you must contact us. Proof of purchase is required, and shipping charges are the responsibility of the FLIPTOY.
View full details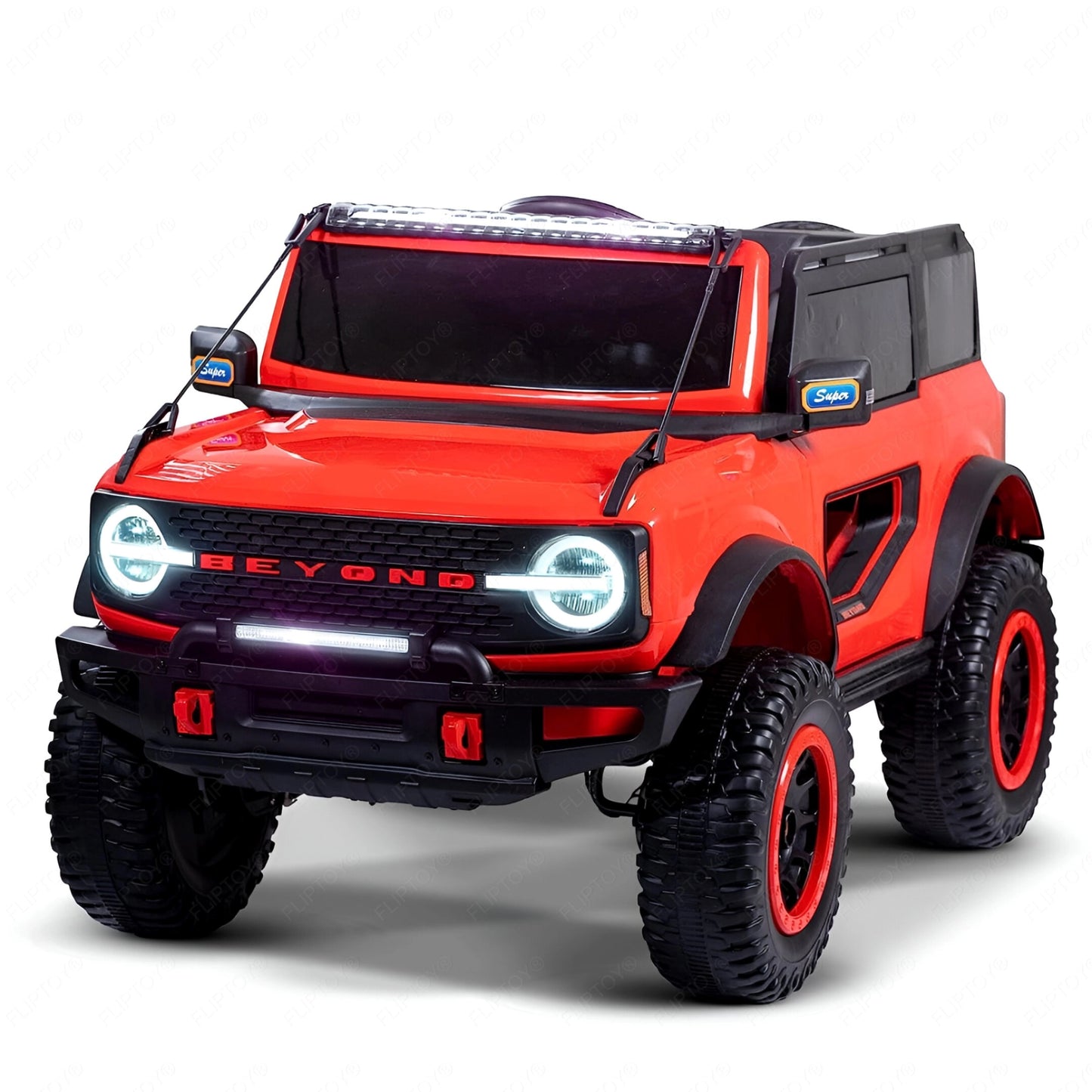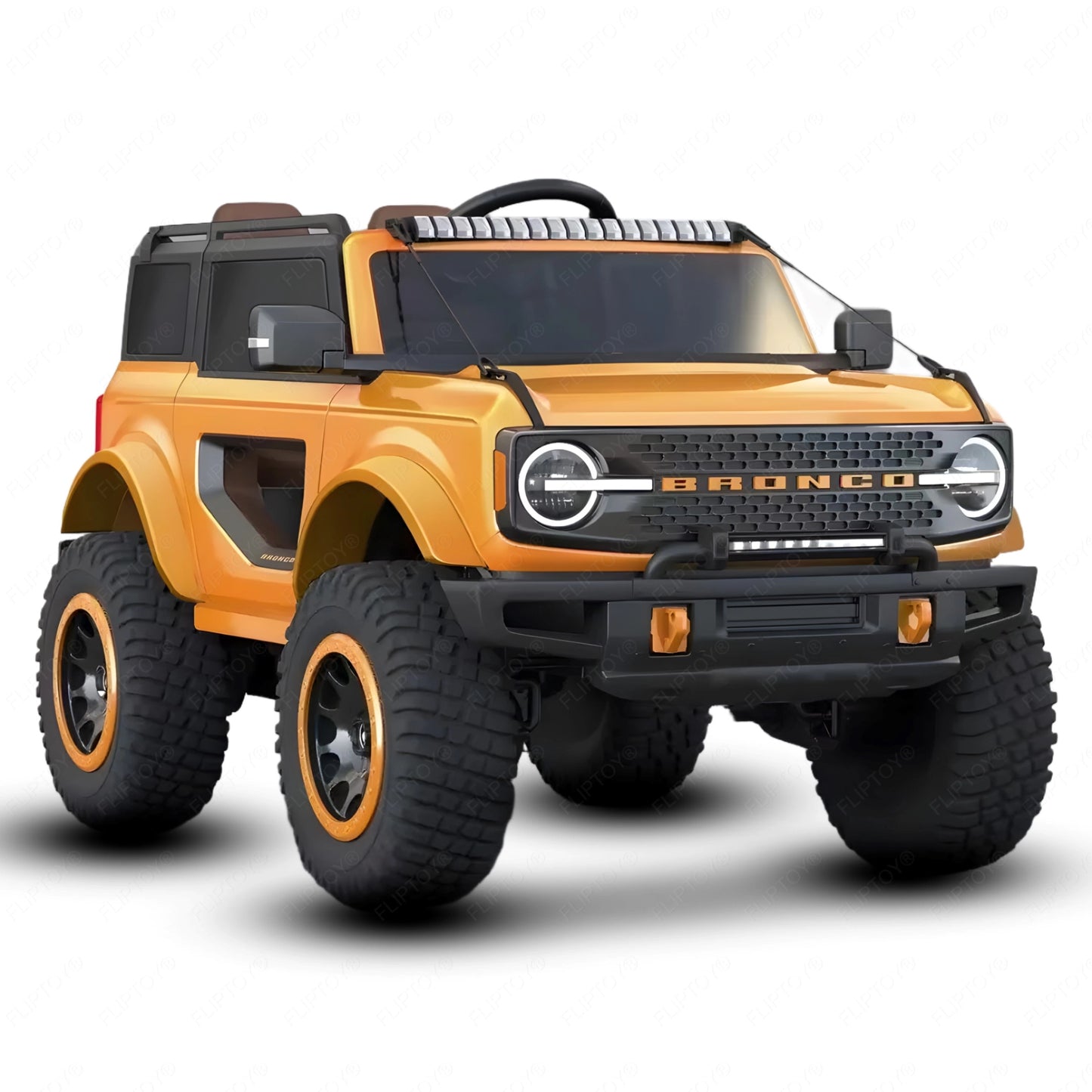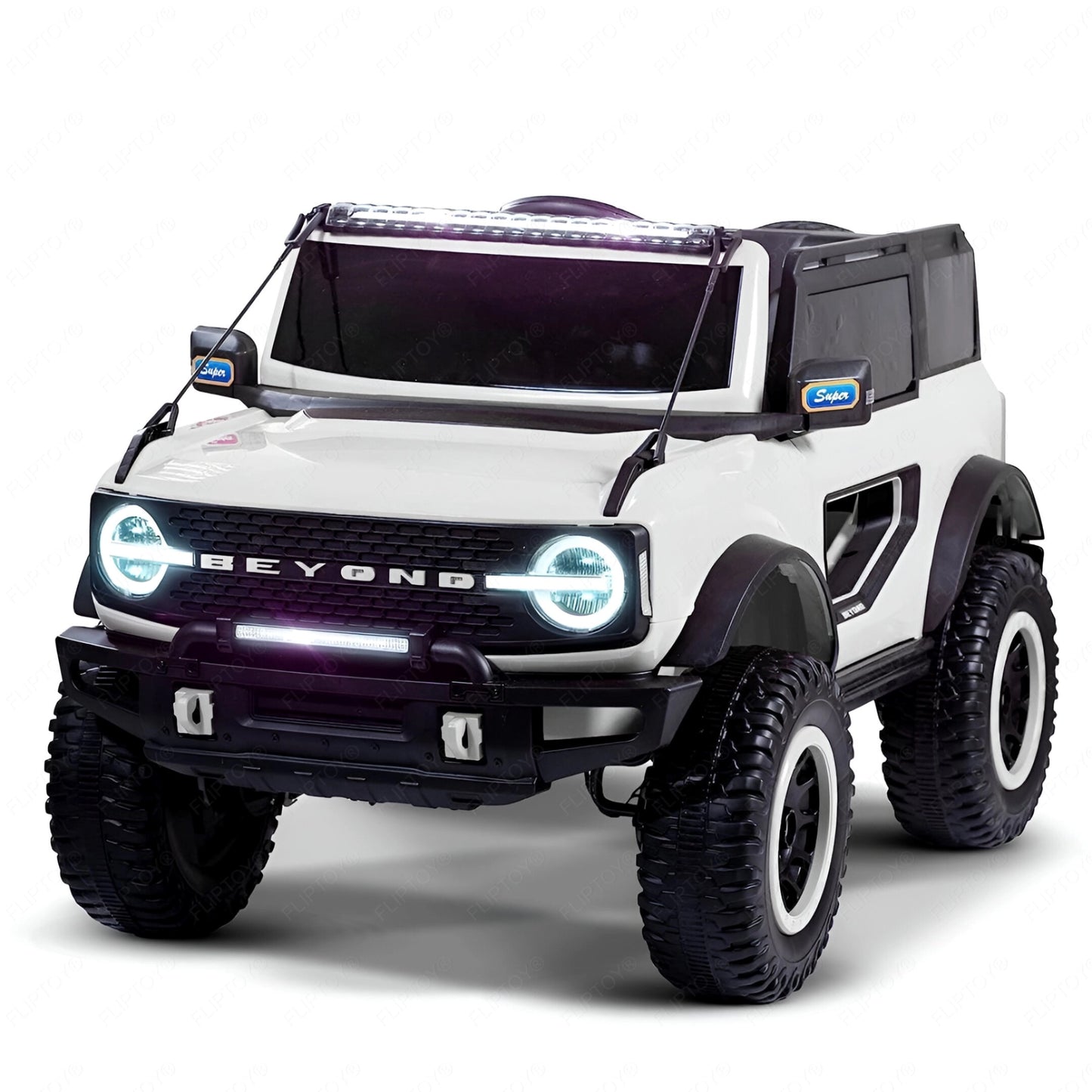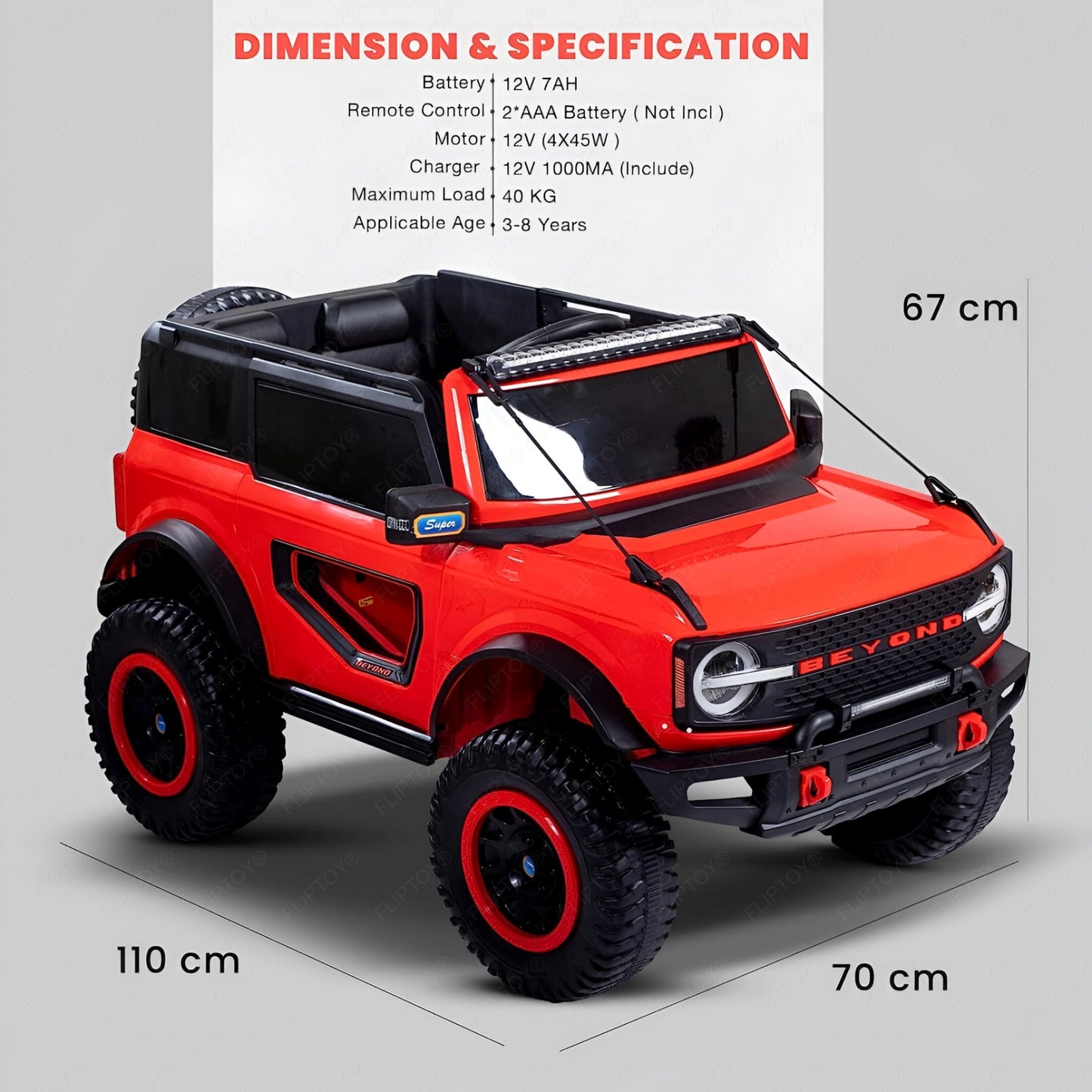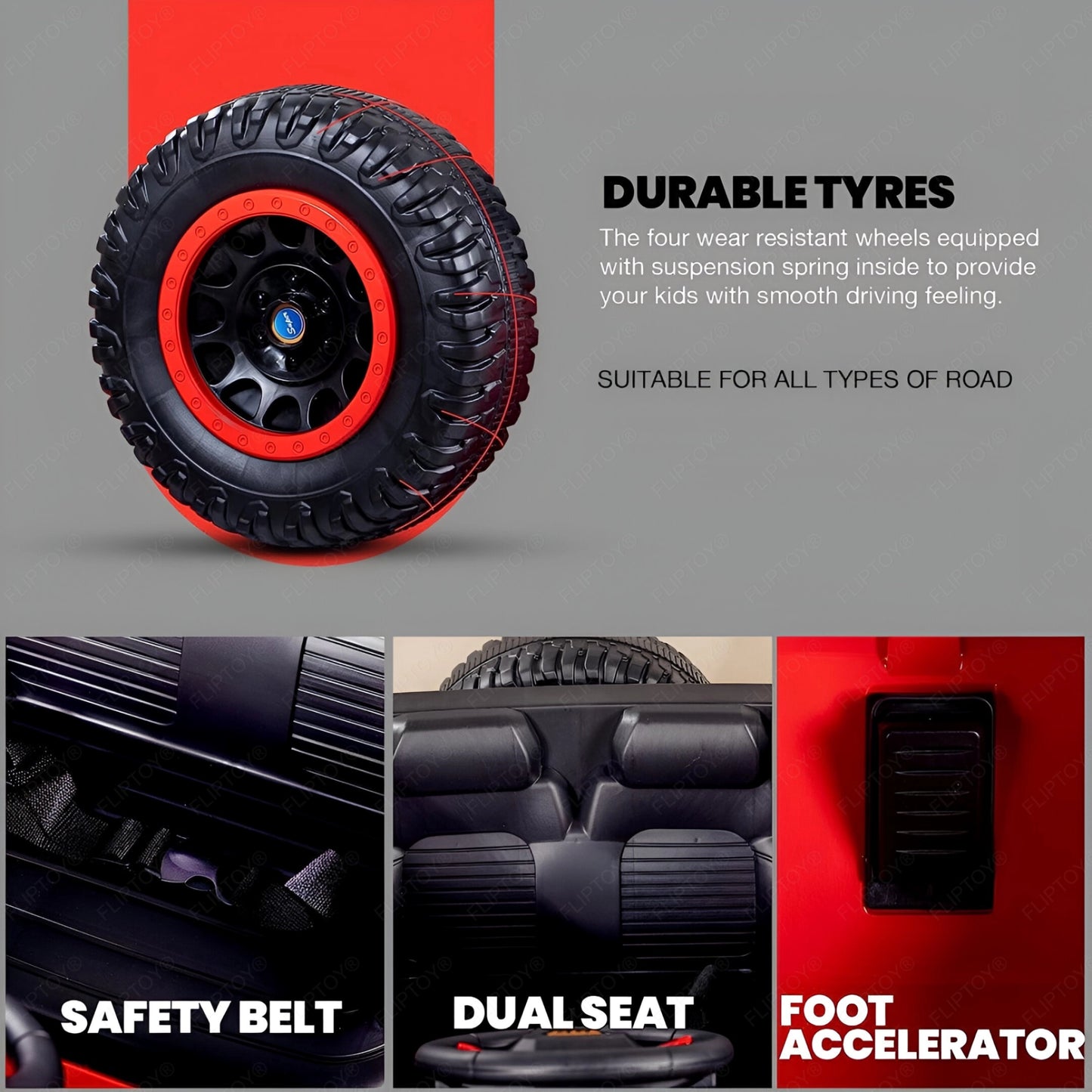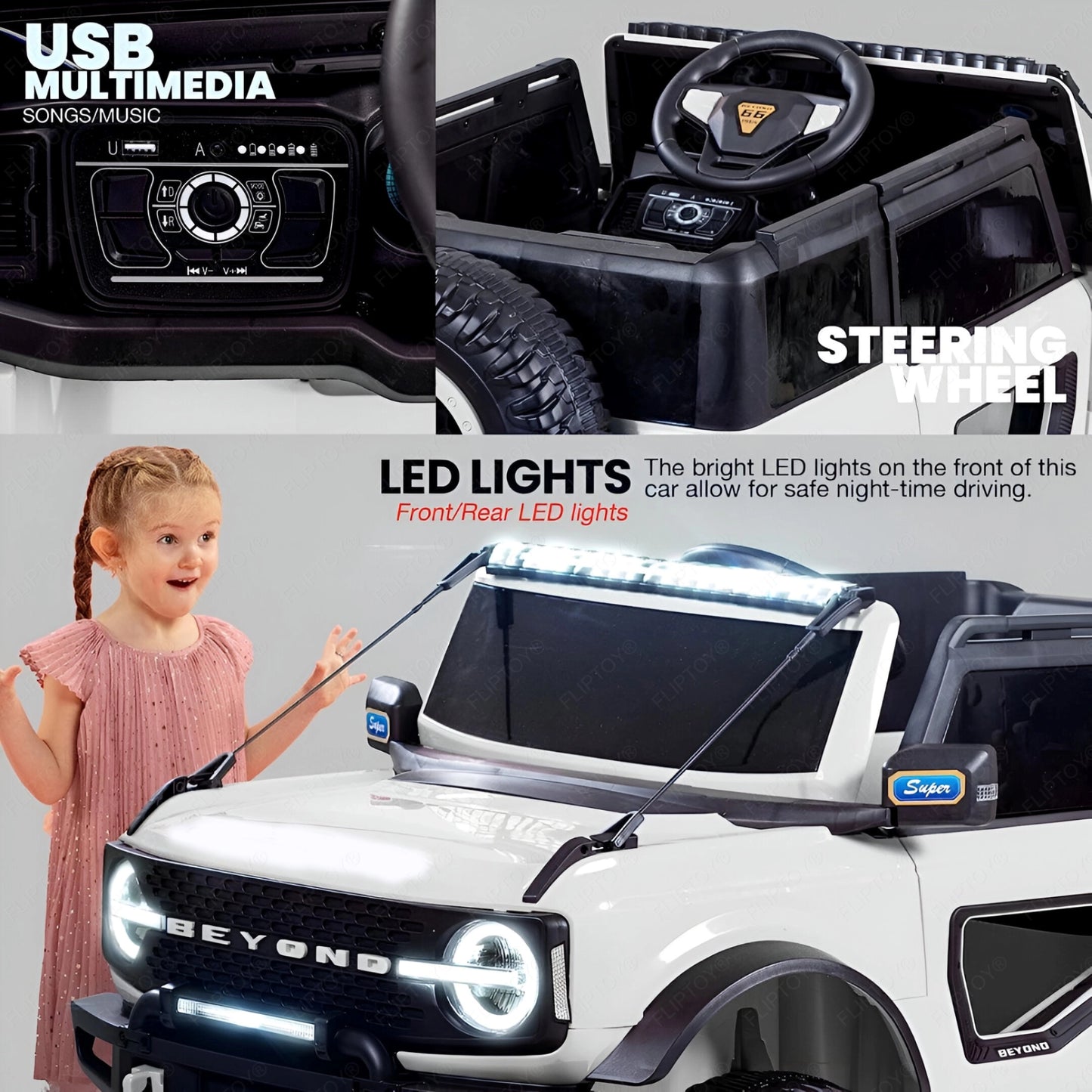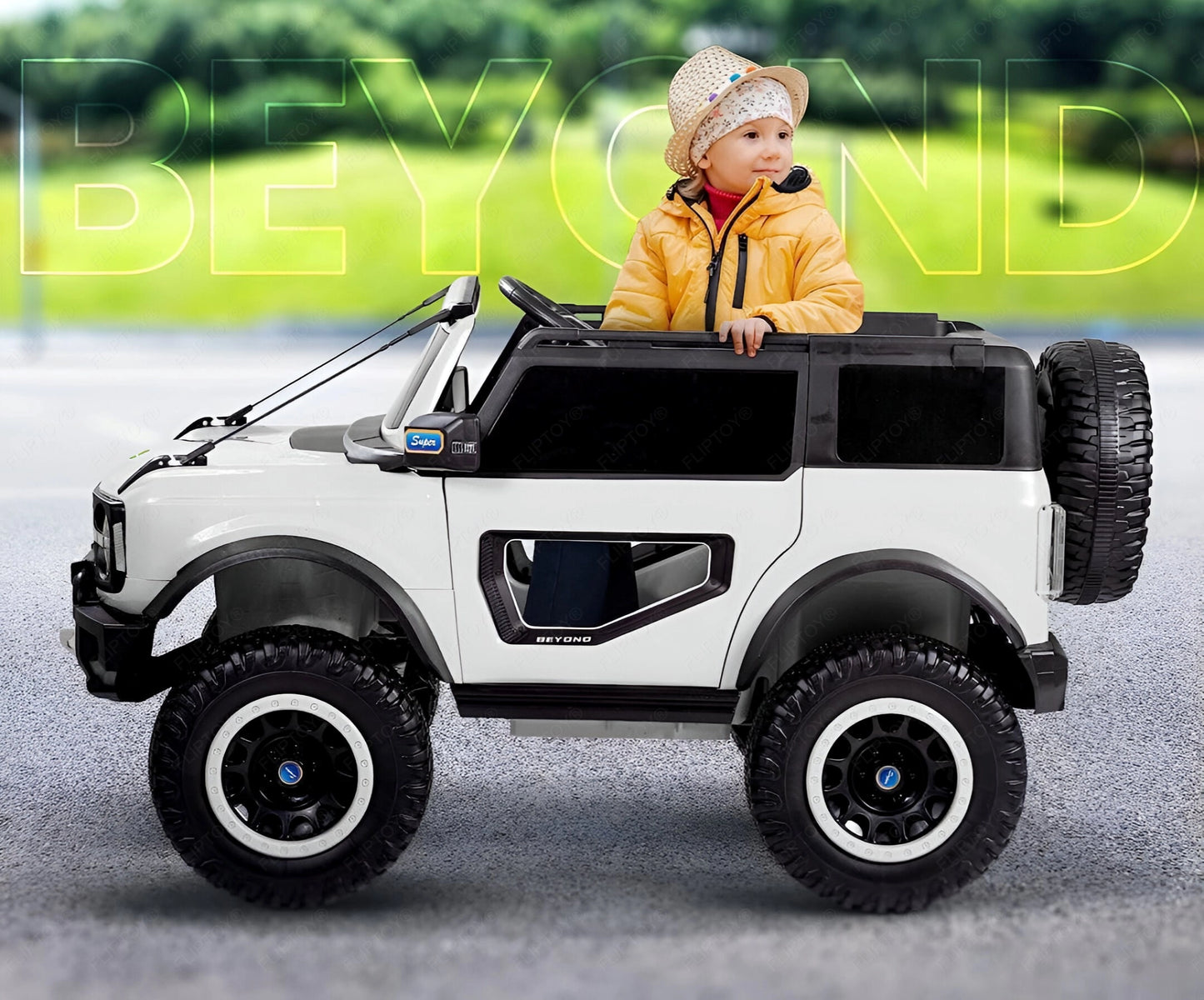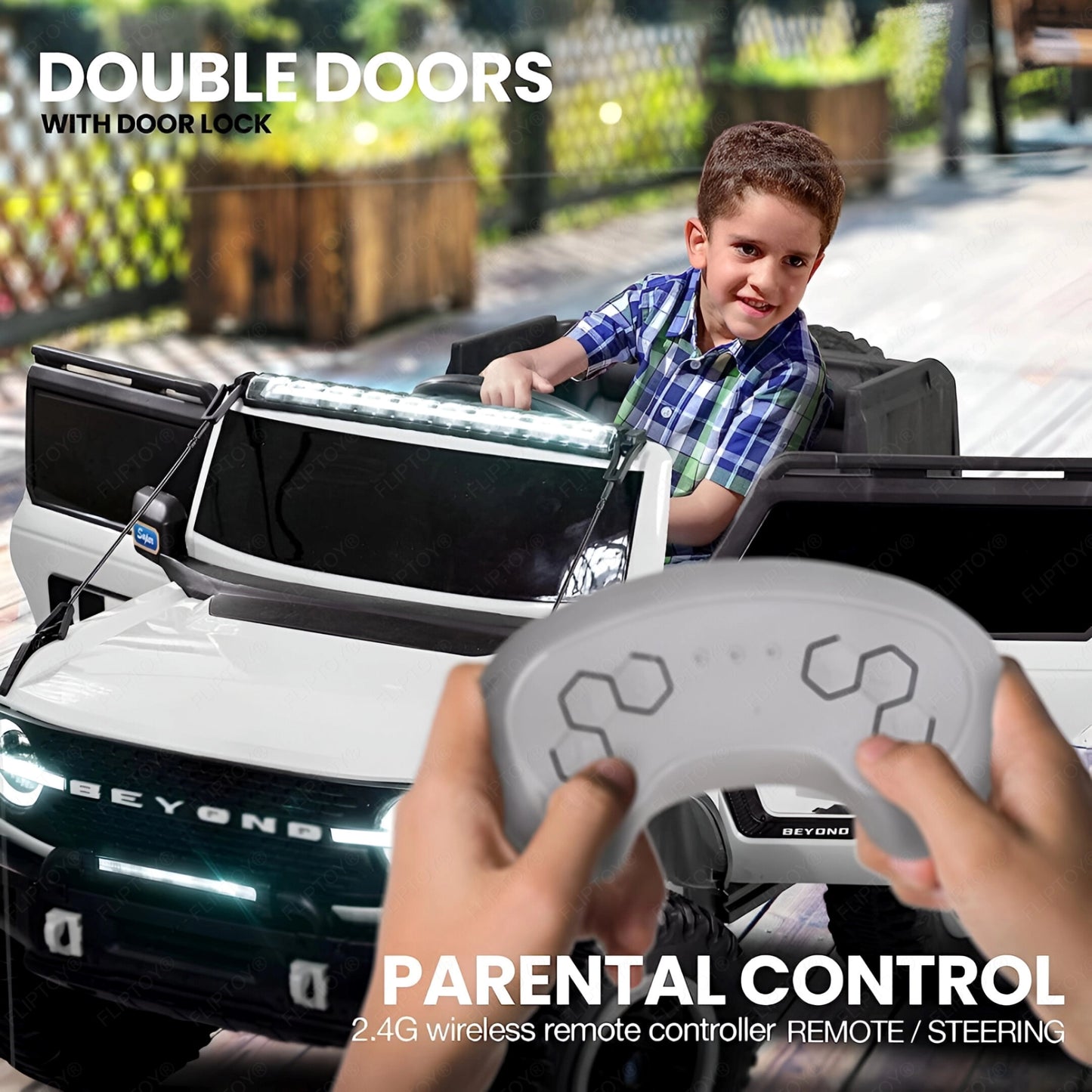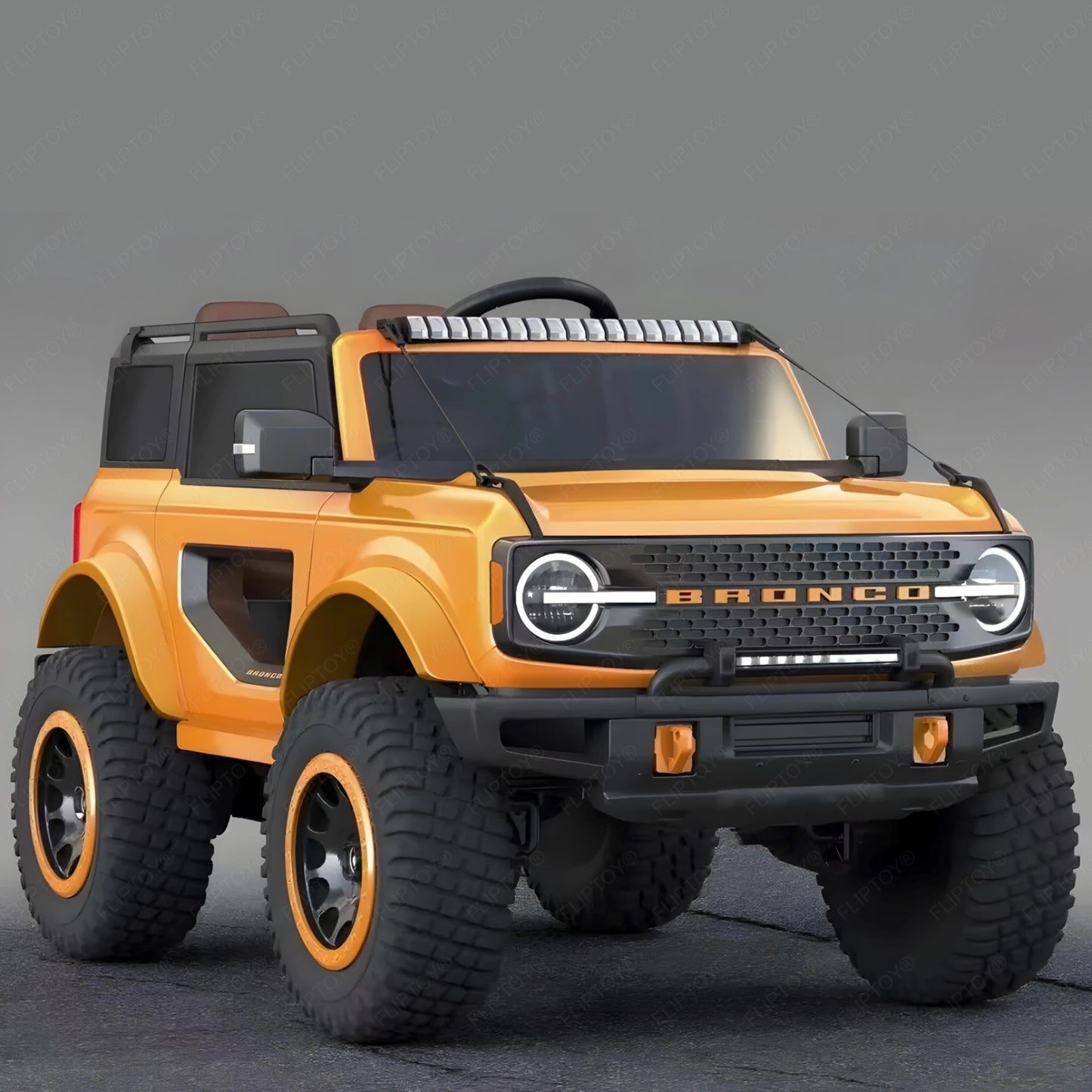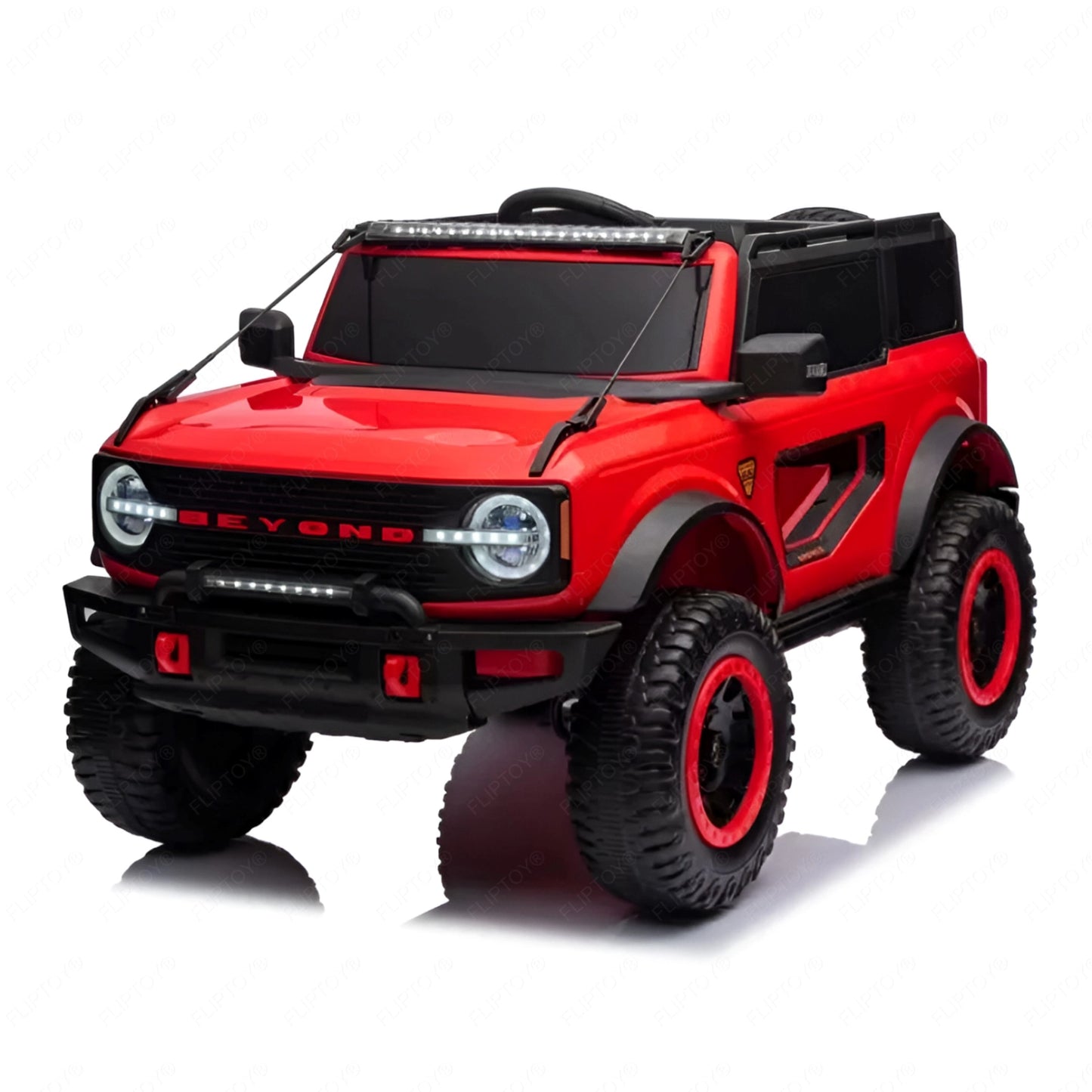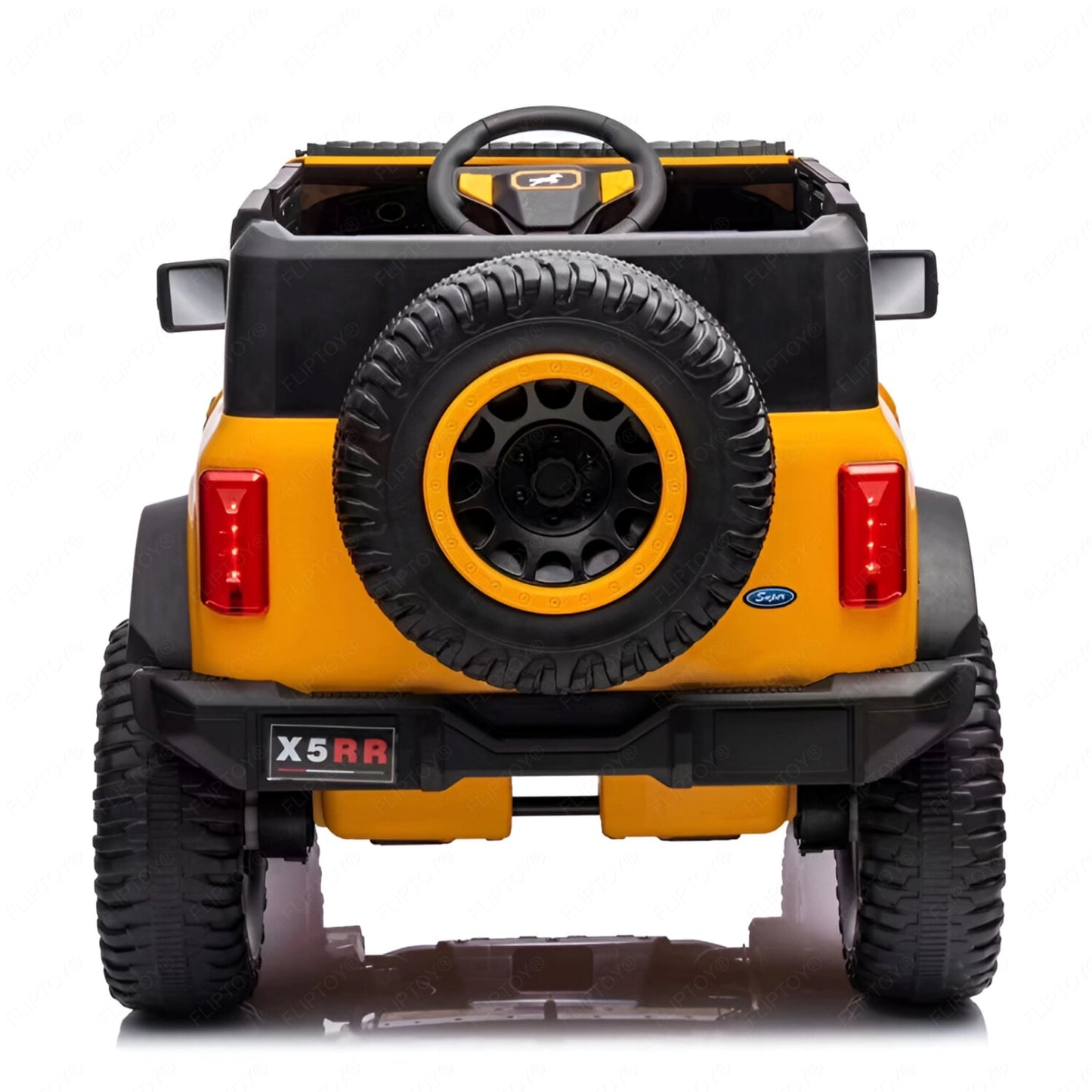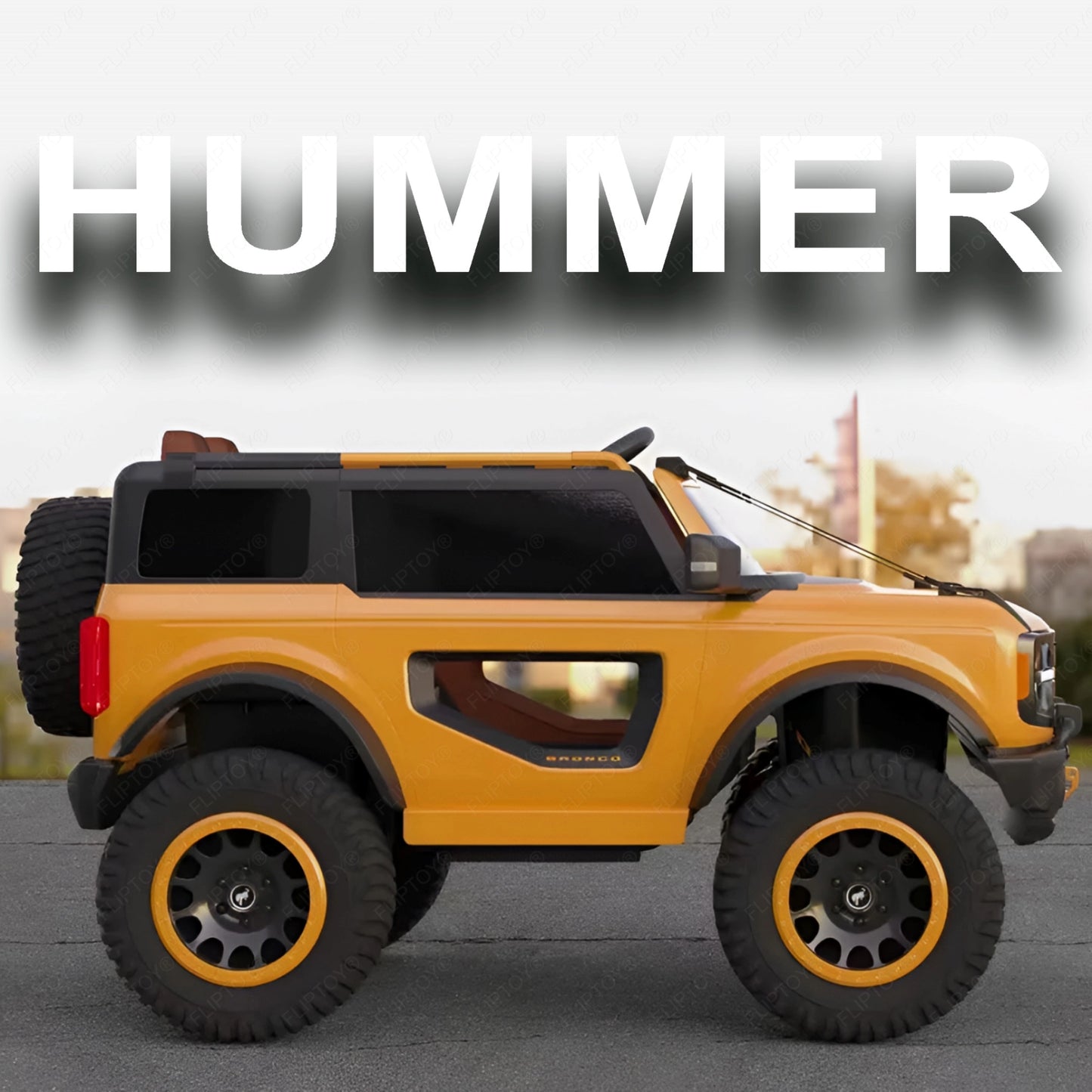 Product information
Technical Details
If you're looking for the perfect gift to delight your little one, a baby ride-on jeep with all the bells and whistles is the ultimate choice. These miniature adventure machines are designed to give your child an unforgettable experience while ensuring their safety and entertainment. In this article, we'll delve into the exciting features of a 12-volt battery-operated ride-on jeep equipped with LED headlights, inbuilt music, USB and Aux ports, and a handy remote controller.
The Joy of Mini Adventures
A baby ride-on jeep is more than just a toy; it's an invitation to a world of imagination and exploration. These small vehicles are crafted to mimic real jeeps, making children feel like little adventurers. With detailed design and realistic features, including working LED headlights, kids can embark on thrilling journeys in their own backyard.
Powering the Fun: The 12-Volt Battery
The heart of this ride-on jeep is the robust 12-volt battery. This power source ensures that your child can enjoy extended playtime, providing ample power for adventures. It also helps young drivers develop their motor skills as they navigate their mini vehicle.
Entertainment Galore: Inbuilt Music, USB, and Aux
What's an adventure without music? These ride-on jeeps come equipped with inbuilt music options that will have your child grooving to their favorite tunes. With the inclusion of USB and Aux ports, you can easily connect external devices to further enhance the musical experience. It's a fantastic way to stimulate your child's sensory development.
Safety and Control: The Remote Controller
Safety is a top priority for parents, and many of these ride-on jeeps include a remote controller. This feature allows parents to take the wheel when needed, ensuring their child's safety. It's especially handy for younger children who are still learning the ropes of steering and control.
Quality Construction
Kids can be tough on their toys, which is why these ride-on jeeps are built to last. Crafted from high-quality materials, they can withstand the rough and tumble of playtime, ensuring durability and long-lasting fun.
Beyond Play: Educational Benefits
While the primary goal is fun and entertainment, these ride-on jeeps offer numerous educational benefits. Children learn about coordination, spatial awareness, and basic traffic rules as they drive their mini vehicles.
The Ultimate Adventure Machine
In a world full of toys, a baby ride-on jeep stands out as the ultimate adventure machine for children. With LED headlights, inbuilt music, USB and Aux connectivity, a remote controller, and a 12-volt battery, it's a complete package for hours of entertainment.
Choosing the Perfect Ride-On Jeep
When selecting the ideal ride-on jeep for your child, consider factors like age, size, battery life, and safety features. It's crucial to pick a model that aligns with your child's age and developmental stage.
Conclusion
In summary, a 12-volt battery-operated baby ride-on jeep with LED headlights, inbuilt music, USB, Aux ports, and a remote controller is the ultimate gift for your child. It's not just a toy; it's a source of adventure, entertainment, and education. Watch your child's eyes light up with joy as they explore their world in style and safety with their very own ride-on jeep.
Frequently Asked Questions
1. What age is suitable for these baby ride-on jeeps?
These jeeps are designed to cater to a range of ages, so select a model that fits your child's age and size.
2. Can parents control the jeep with a remote?
Yes, many models come with a remote controller, allowing parents to take over when necessary.
3. How long does the battery last on these ride-on jeeps?
Battery life can vary, but most models offer extended playtime on a single charge.
4. Are there safety features to protect my child?
Yes, these jeeps are equipped with safety features, including seat belts and the option for remote control.
5. Is assembly and maintenance difficult?
No, assembly is straightforward, and maintenance is minimal, making these jeeps convenient for busy parents. Invest in a 12-volt battery-operated baby ride-on jeep with LED headlights, inbuilt music, USB, Aux, and a remote controller, and provide your child with the gift of adventure and learning. These jeeps offer endless fun and excitement while ensuring safety and entertainment. Let your child hit the road in style and create cherished memories today! [gallery columns="1" size="full" link="none" ids="24134,24141"]
Choosing a selection results in a full page refresh.
Opens in a new window.